Bitcoin Rally Comes To Halt In Sharp Crypto Market Correction
It was a major bloodbath on the Crypto Street on Monday, January 11, as the overall cryptocurrency market lost more than $170 Billion in a flash crash and ended the crypto market party for 2021.
Bitcoin (BTC), which had rallied all the way up to $42,000 last week, corrected more than 20% in its sharpest fall since March 2020. On Monday, the BTC price crashed all the way to $30,500 levels, nearly wiping out all its year-to-date gains for 2021.
The Bitcoin price correction comes after a strong rally last week and interestingly coincides with a record amount of the USDT stablecoin printing by Tether. Just in a week's time, Tether printed an additional 2 billion USDT.
As per data from CoinMetrics, over 24.6 billion USDT stablecoins currently circulate across Bitcoin, Ethereum, and Tron blockchain networks. Tether and Bitfinex CTO Paolo Ardoino told CoinDesk that participation by institutional investors has resulted in major USDT supply growth.
Several over-the-counter (OTC) trading desks and high-frequency trading firms have been using USDT to execute fast orders. Most of the institutional players in the market use OTC trading desks to place their buy orders.
Additionally, another reason for the Bitcoin price correction could be the rising selling pressure from miners. As seen in the image below by CryptoQuant, the Bitcoin Miner Position Index (MPI) reached a 17-month high after June 2019.
The last time Bitcoin MPI crossed these levels (in June 2019), the BTC price corrected 50% by the end of that year. Even this time, BTC made a sharp pull-back of nearly 20%.
Moreover, analysts noted that the Bitcoin miner selling pressure had already been building up over the last month. Due to continuous institutional buying, the price kept surging high. However, institutions have been on a purchasing hiatus since December 25, 2020, while the selling from miners has continued. This ultimately dragged the BTC price south on Monday.
As soon as the Bitcoin (BTC) price tanked on Monday, Guggenheim Partners' chief investment officer Scott Minerd called for profit-booking. On his official Twitter account, Minerd wrote: "Bitcoin's parabolic rise is unsustainable in the near term.  Vulnerable to a setback. The target technical upside of $35,000 has been exceeded.  Time to take some money off the table".
Surprisingly, Minerd's comments were the complete opposite after the CIO gave a price target of $400,000 for BTC last month. Also, it is interesting to note that Guggenheim Partners have filed with the SEC to invest $500 million in Bitcoin (BTC) via the Grayscale Bitcoin Trust (GBTC). The proposed filing shall become effective ahead this month on January 31.
Bitcoin (BTC) On-Chain Fundamentals Remain Strong
While Bitcoin continues to exhibit massive volatility, its on-chain fundamentals continue to improve. As per data by Glassnode, Bitcoin's hash-rate and mining difficulty are at an all-time high. This is a positive indicator suggesting that the Bitcoin network is even more secure.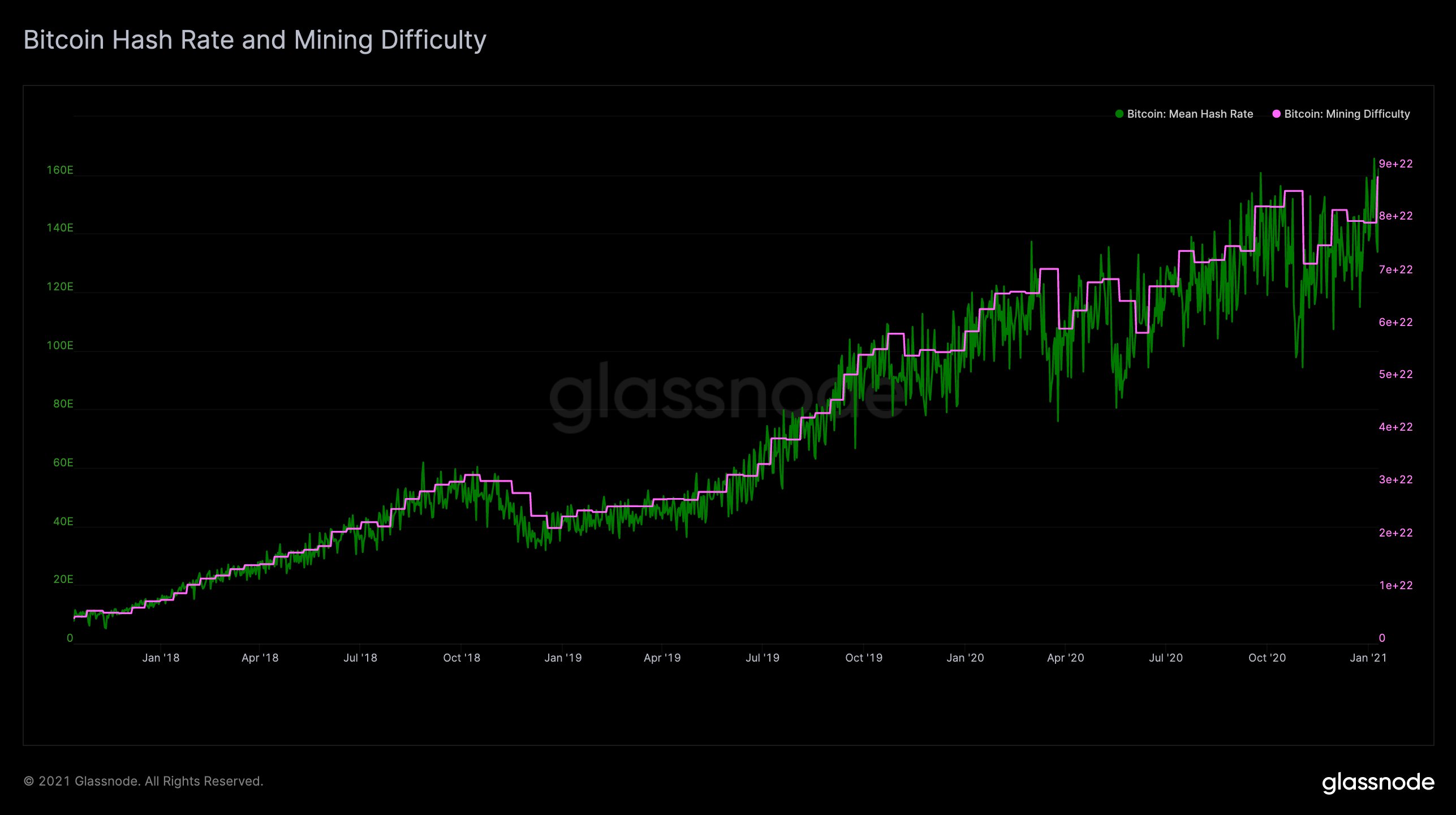 As a result, the Bitcoin miner revenue also surged to $40 million on Sunday, January 10.
Additional data from Glassnode shows that Bitcoin whales continued to accumulate further despite the recent correction in price. Bitcoin addresses holding over 1K BTC have surged past 2350, registering over a 4% jump over the past month.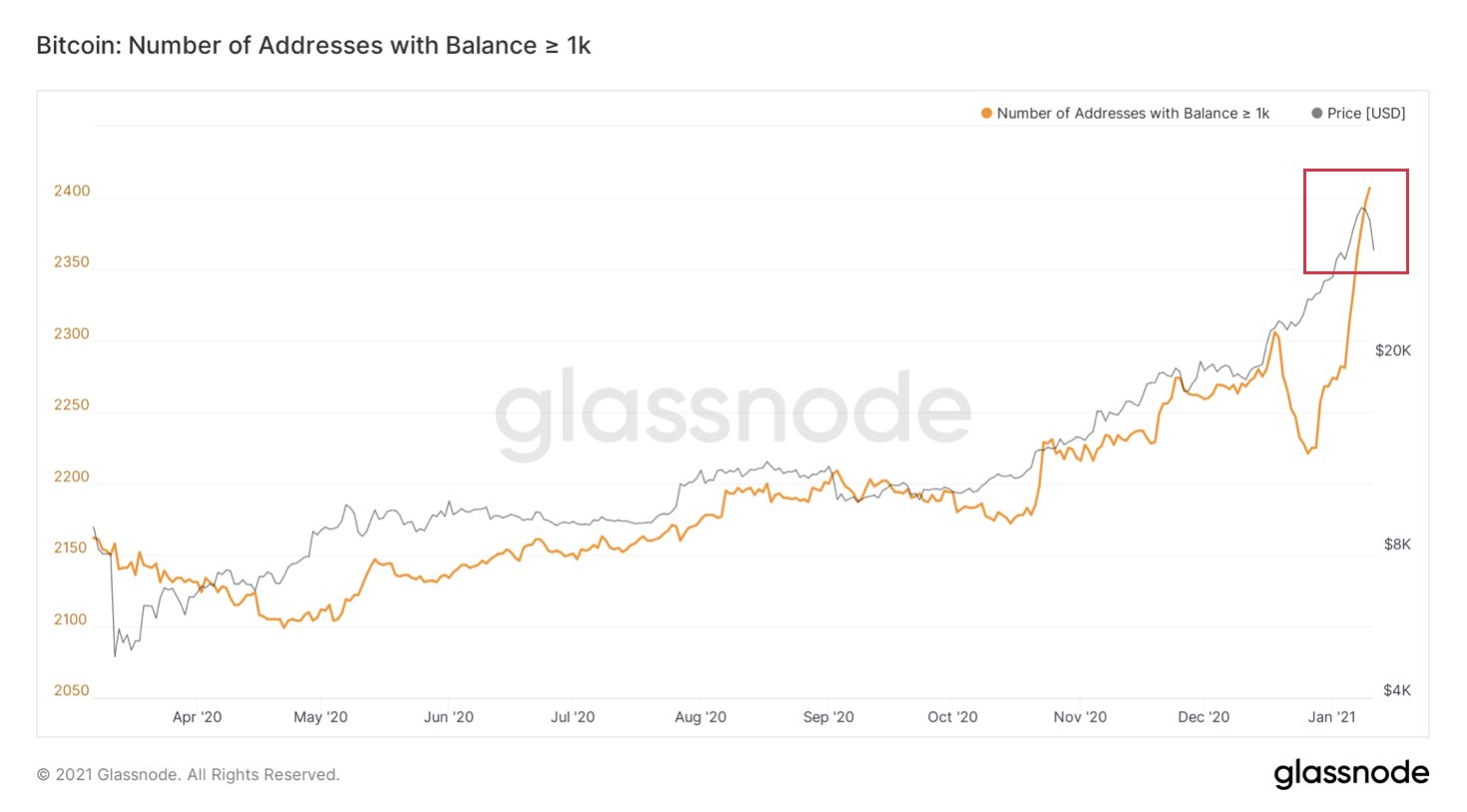 From Monday's lows of around $30,500, Bitcoin has once again recovered more than 15% back and is currently trading at around $36,000 levels. Citing data from Bitmex contract funding, on-chain data provider Santiment shows that the BTC long positions are still overwhelming the shorts.
Ethereum Strongly Holds Above $1100 Levels As Whales Accumulate
During Monday's crypto market crash, the Ethereum price also tanked more than 20%. It has, however, managed to hold above its crucial support of $1000. At press time, ETH is trading at $1129 with a market cap of $129 billion.
On-chain data provider Santiment states that the number of Ethereum addresses with more than 10,000 ETH has surged by .2% in the last two weeks. Currently, more than 1220 ETH whales hold over 10K ETH coins.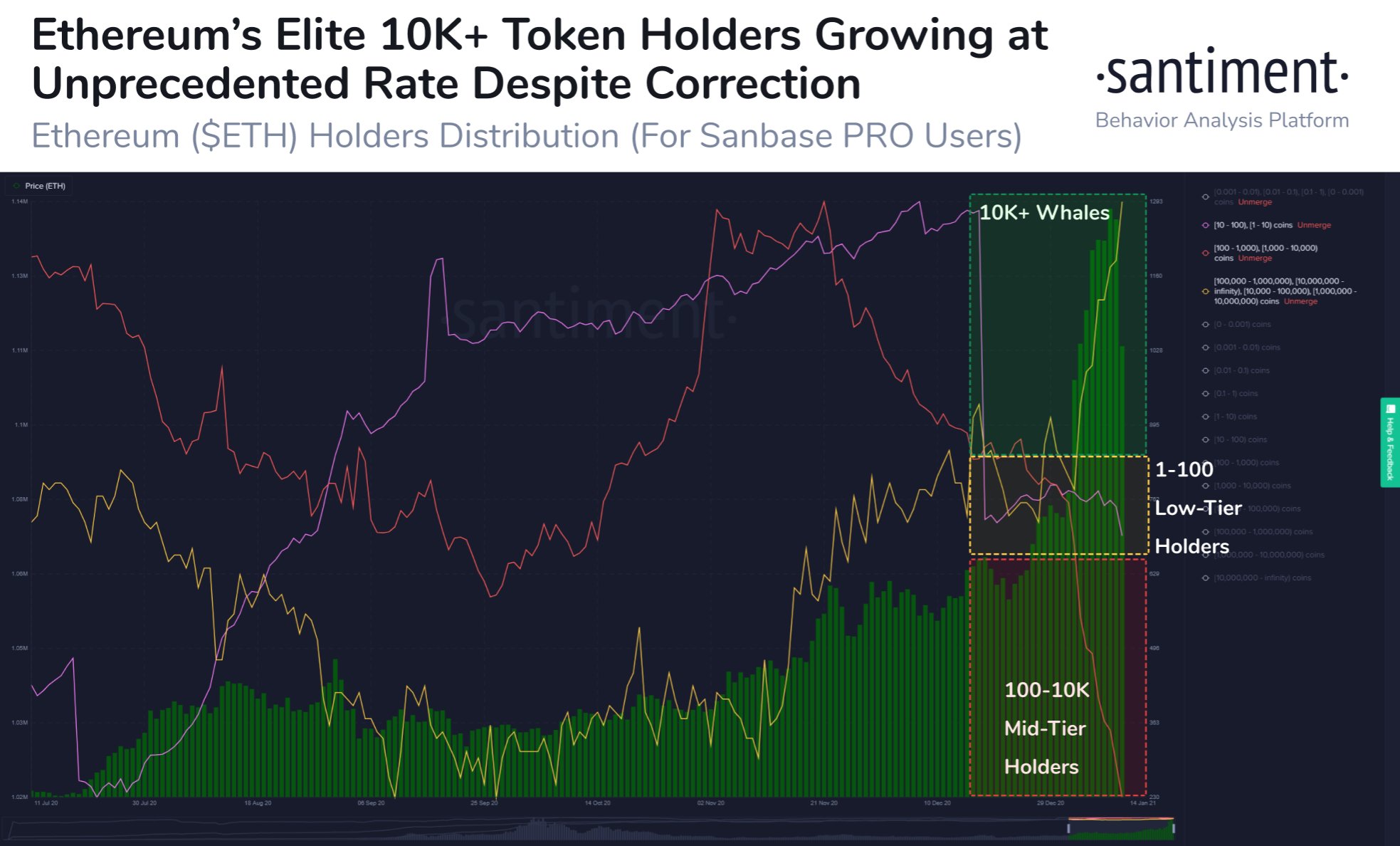 After an estimated 600% surge last year in 2020, the ETH price is up more than 50% so far in 2021. A large number of institutional players are showing interest in Ethereum as the market is waiting for the launch of CME Ether Futures next month in February 2021.
After Monday's sharp crypto market correction, the U.K's topmost financial regulator – Financial Conduct Authority (FCA) – issued a warning to investors asking them to be prepared to lose all their money in crypto assets.
In an official statement, the FCA said: "Investing in cryptoassets, or investments and lending linked to them, generally involves taking very high risks with investors' money. If consumers invest in these types of product, they should be prepared to lose all their money."